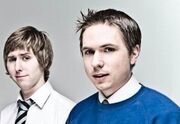 The
Jay-Simon Friendship
refers to the friendship between
Jay Cartwright
and
Simon Cooper
.
Their friendship is sometime referred by the the fan-given nickname Jimon (taken from Jay and Simon).
Friendship History
Edit
Simon often hangs around with Jay and Neil before the arrival of Will. They have been friends since 1998. However, Simon fails to believe in Jay's lies unlike Neil. Jay often tries to help out Simon with his worries, but this often makes things worse or results in Simon embarrassing himself. In the film, the two get into a physical fight in the streets of Malia. Jay goes off with Neil and Simon with Will. They then claim how much they hate each other and ask why they are friends. Then they make up and Jay seems quite sad when Simon states he will be going to university after the holiday.
Ad blocker interference detected!
Wikia is a free-to-use site that makes money from advertising. We have a modified experience for viewers using ad blockers

Wikia is not accessible if you've made further modifications. Remove the custom ad blocker rule(s) and the page will load as expected.