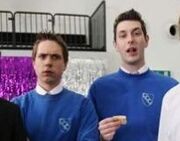 The Simon-Neil Friendship refers to the friendship between Simon Cooper and Neil Sutherland.
Their friendship is sometime referred by the the fan-given nickname Nimon (taken from Neil and Simon).
Friendship History
Edit
Simon often hangs around Neil and Jay before the arrival of Will. Though Simon and Neil often share a few moments together, it is probably the least developed friendship in the programme.
Ad blocker interference detected!
Wikia is a free-to-use site that makes money from advertising. We have a modified experience for viewers using ad blockers

Wikia is not accessible if you've made further modifications. Remove the custom ad blocker rule(s) and the page will load as expected.